Create a WordPress website
Build a website on the most popular CMS
WordPress started as a blogging platform but has developed into a complete content management system (CMS). Its ease of use and endless possibilities make WordPress a great choice to build your website with. It's no coincidence that WordPress is the most used CMS in the world.
With one.com WordPress hosting, you can build your WordPress website within a day, and our extensive help section and live chat are always there to help you.
Why create your WordPress website with one.com?
WordPress is more challenging for beginners than Website Builder but offers more possibilities. At one.com, we make it easy for you to create a WordPress website that performs well. Our WordPress hosting is fast, secure and reliable and offers some great features:
1-click Installation
No trouble with manual installation. Install WordPress with our 1-click installation in less than a minute.
Health Monitor
Track the health of your website, and receive security alerts and suggestions for performance improvements.
Unique themes and plugins
Enjoy themes and plugins developed by one.com, exclusive for our customers.
No Coding
You don't need any coding skills as you can simply select and customize themes.

Free SSL Certificate
A free wildcard SSL certificate is automatically installed for you to secure your website.

24/7 Support
Are you stuck, or do you have any questions? Support is always available for you.
How to create a WordPress website in 4 simple steps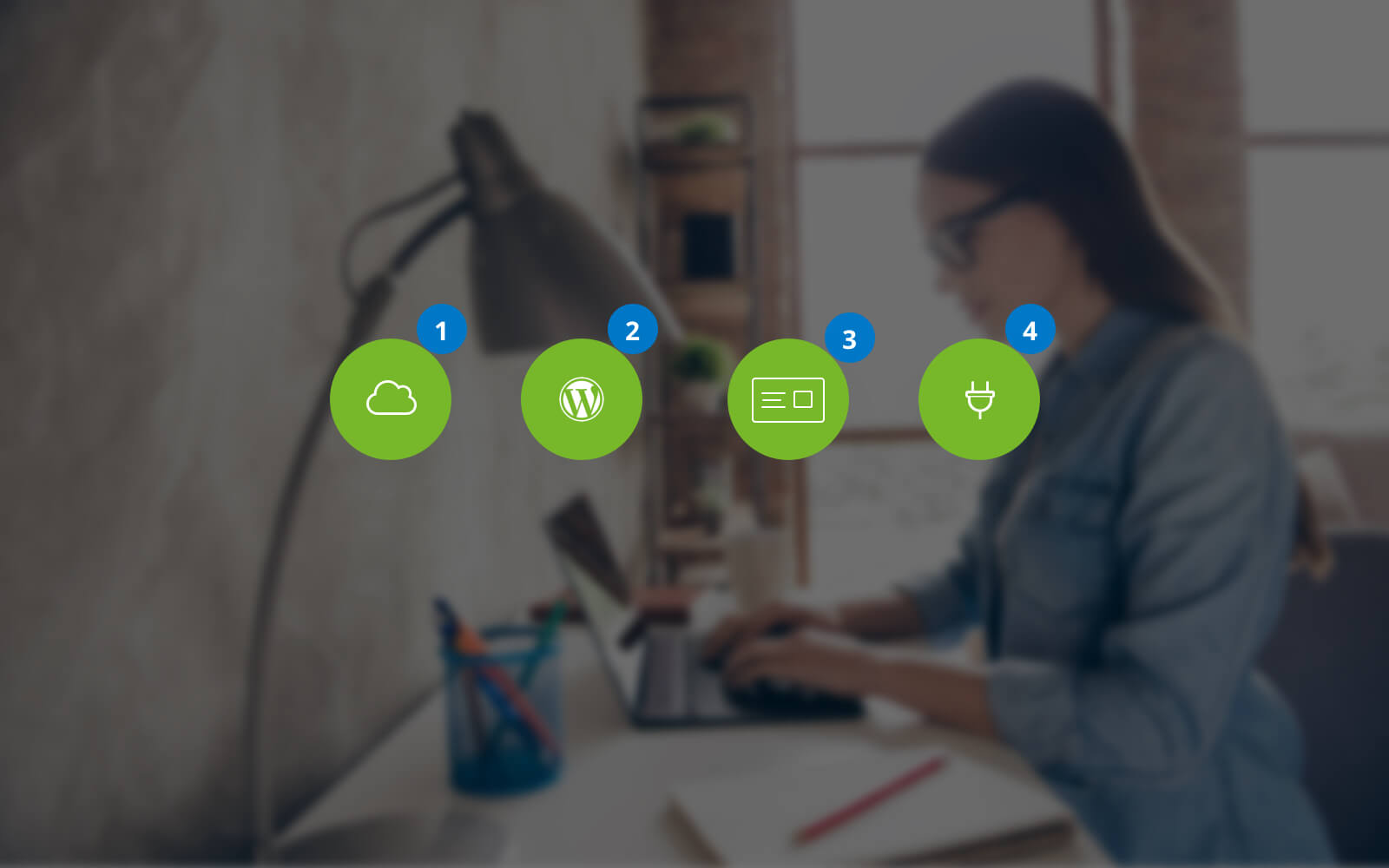 With one.com, it's super easy to create a WordPress website. Get started by following the step by step guide below and build your WordPress website today.
1. Choose a hosting plan and domain name
To get started with creating a WordPress website, you need hosting and a domain name.
You can install WordPress on your website with all our hosting plans. Look at the features of each plan to decide which plan best suits your needs. You can always upgrade to a different plan later if you require more or better features.
For businesses that wish to succeed online
200 GB
500 mail accounts
Website Builder
1-click WordPress
5 websites
After you have chosen a plan, you can register a domain name by searching for one in the domain search bar. Choose a domain that's relevant for your website. It will be used by visitors to access your website and may also act as an email domain.
2. Install WordPress with our 1-click installer
Log in to your one.com dashboard and go to WordPress. Click on New installation to install WordPress to your website in less than a minute. Create your login details and complete the setup by selecting a theme.
With one.com WordPress hosting you get the best of both worlds. In addition to thousands of WordPress themes, you can also use some one.com themes on your WordPress website. We have over 35 unique and free templates that are compatible with WordPress.
A theme defines the design of your WordPress website. But you can always make changes to your design by installing a new theme or by customizing your current theme.
3. Create pages or posts
WordPress is now installed on your website! Explore the WordPress dashboard to get familiar with the features and settings. After that, it's time to create some pages and posts.
Our themes have already created some sample pages to help you get started. Edit existing pages by adding your own content and create new pages. You can always preview your changes before you save them.
You can also publish blog posts on your website. Check out the sample posts to figure out how to create a new blog post. Posts in your blog can be categorized, and you can allow or disallow visitors to add comments.
4. Install plugins
One of the best things about WordPress is the use of plugins to enhance your website. A plugin is an extra feature you can add to your site. For example; a contact form, speed and security optimizers and plugins that assist you with online marketing.
There are thousands of free plugins available that can bring your WordPress website to the next level. Check the reviews of a plugin and the last time it was updated before you install it, so you don't install plugins that might harm your site.
As a one.com customer, you can use the one.com plugin. This plugin gives you access to one.com themes, additional one.com plugins and features for WordPress. We also list our recommended and discouraged plugins for you.
What's next after creating a WordPress website?
Getting used to WordPress takes some time, but once you get the hang of it, it's a fantastic platform to create and manage your website on. Here are some tips on things you should do after creating your WordPress website.
Discover your WordPress dashboard. Discovering the features and options in your WordPress dashboard is the best way to get familiar with WordPress. Try to find some useful plugins, create some posts and pages and play around with the design of your site!
Create a professional email address. Having email on your own domain gives you a professional look and builds trust between you and the receiver. You can update your new email address in the WordPress dashboard and use it for admin purposes.
Keep your WordPress website updated. WordPress regularly releases new versions and it's important to keep your website updated with the latest version. This makes sure your website is updated with the lates security features and is less vulnerable to digital threats. Besides the CMS itself, it's also important to keep your enabled plugins and theme up-to-date.